Donate from your Pay
Workplace Giving is a simple way to donate to charities direct from your pay, and get your donations matched. Most companies match donations, so you could double your impact, giving your charity even more support!
Help
Samantha Rose

reach their target

Donations big & small make a difference
Donate Now
Donate now using your credit card or PayPal account using our secure payment gateway and recieve a tax deductible receipt emailed directly to you
link copied to clipboard
saving changes, please wait..
page successfully updated
error saving changes
file size exceeds 512kb.
$175

of

AUD

$1,200 target.
Raised by 0 people in days for Cancer Support WA
Biggest Supporters
AUD $50.00
Janet Craig Photographer
Brutus & Rocky - One of the Family
Story
Hi everyone and welcome to my fundraising page
Let me start by saying that cancer to me is a dirty word that fills me with fear. It has affected myself and my family greatly - it has 'stolen' my Mum from me, my Dad and my Sister are in remission from it, my good friend passed away from it, my other friend is in remission from it and I have two friends fighting the disease right now. So as you can imagine it is a subject very close and personal to my heart.
Sadly like many other people, I have never thought of supporting any cancer charity prior to losing my Mum let alone even saying the word 'Cancer' in the same sentence as any of my loved ones. When my Mum was diagnosed my whole world fell apart and if I am honest there is still a huge 'Mum sized gap' in my life which simply cannot be filled.
There are many cancer charities/groups that I could support; but I have decided to support Cancer Support WA and take part in the Pet Project Fundraising Photographinc Exhibition called 'One of the family' to raise much needed funds for Cancer Support WA.
Cancer Support WA helps people and their families that are dealing with cancer and provides support services not to mention the only 24 hour Cancer Support phone line in Australia - I guess you could literally call this a 'life-line' to anyone that not only has cancer, but their loved ones as well.
Through this page you can support my efforts by sponsoring my "One of the family" portrait of my boys Rocky and Brutus who tried so hard to pose nicely in the photograph and be good boys and didn't do too badly at all considering it was their first photo shoot.
You can make a secure donation online and no matter how much it is, it will be more than welcomed by Cancer Support WA because at the end of the day it doesn't have to be a big donation to make a difference, it just has to be a donation. Cancer is a cruel disease - don't wait until it affects you before you support a cancer charity.
If you could share my page with as many people as possible or comment below so more people know about it that would be great.
Click 'Donate Now' to make a secure online donation.
All donations over $2 are tax deductible and you will be issued with a DGR receipt via email as soon as you make a donation, which can be used at Tax time.
We are hoping to raise $120,000.00 to support the work of this incredible local charity – Cancer Support WA. Your donation will help us reach this goal and the portraits will be displayed in a public exhibition in 2015. Details of the exhibition will be emailed to you closer to the date.
Please find below the story behind my "One of the Family' portrait.
Thanks so much for your support!
Brutus & Rocky - One of the Family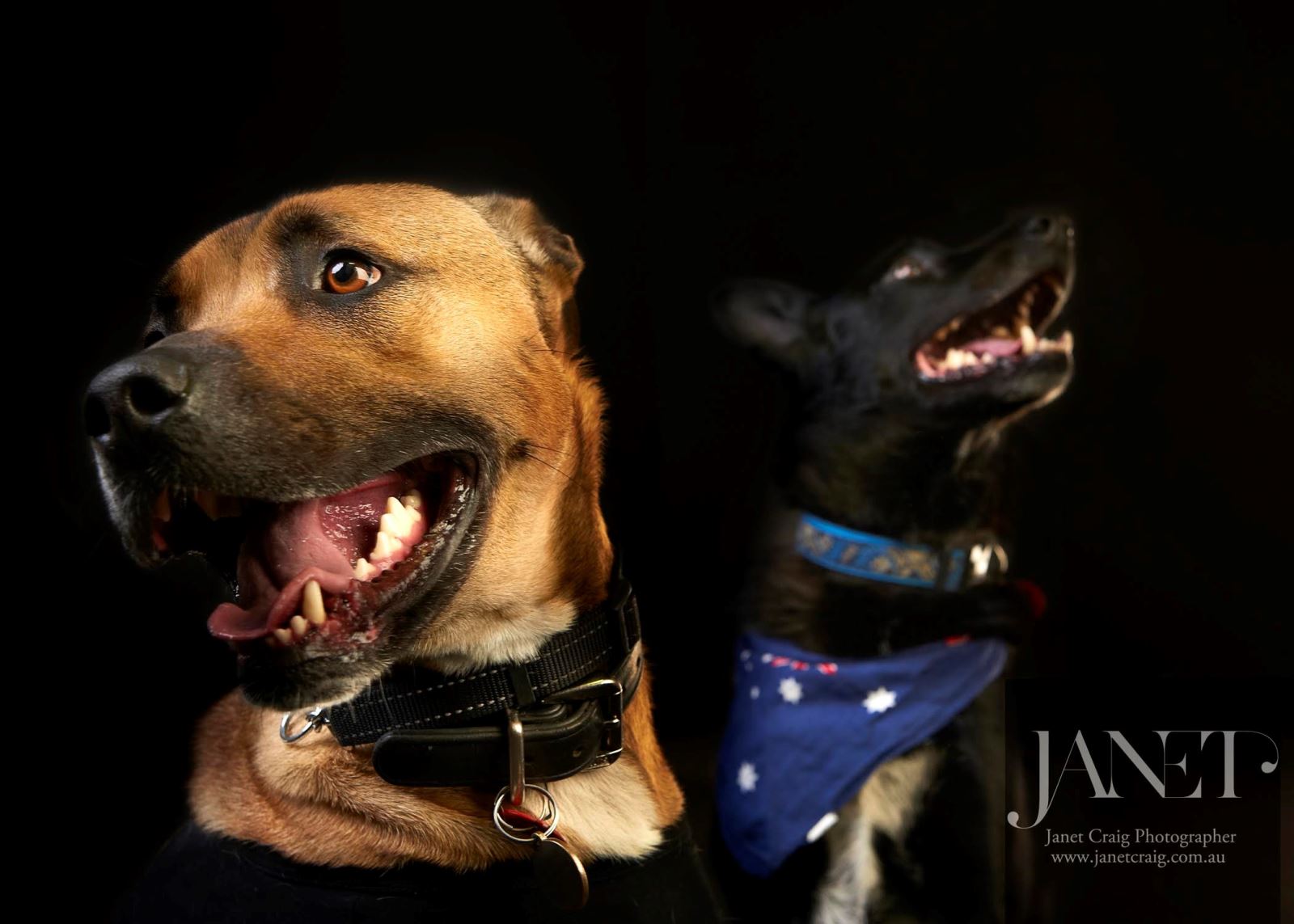 About Brutus
| | |
| --- | --- |
| Dog Name | Brutus |
| Age (Human Years) | 2.5 |
| Age (Dog Years) | 24 |
| Breed of Dog | Rhodesian Ridgeback/Kelpie |
| Naughtiest deed | Jumping a 6 foot gate and getting his head wedged in the spikes |
| Pet Hate | Cold weather |
| Favourite Toy | His beloved Tony Abbott Doll |
| Known Accomplice | Rocky his brother (Kelpie) |
| Favourite past time | Lure coursing (West Coast Dog Sports) |
Brutus first came to us as a foster dog aged 12 weeks old. He was not the kind of dog we were looking for; we wanted a small female dog as a friend for our kelpie, not a ridgeback/kelpie male.
However as it was meant to be a temporary measure it wasn't a problem. (thank you Cath and Justin from CJ Animal Rescue!) After just 3 days we decided that he belonged with us and we adopted him thus making him a 'foster fail'.
In that first week we nearly lost Brutus from a serious case of gastro and he spent the first part of his new life in hospital on fluids. This took him months to fully recover and that was when we realized just how much we loved him. Now we cannot imagine our life and home without our clumsy, kind and gentle 'Scooby Doo' lookalike.
About Rocky
| | |
| --- | --- |
| Dog Name | Rocky |
| Age (Human Years) | 7 |
| Age (Dog Years) | 44 |
| Breed of Dog | Kelpie |
| Naughtiest deed | Digging 4 foot under a retaining wall and burying himself in his own hole |
| Pet Hate | Thunder |
| Favourite Toy | His tennis ball |
| Known Accomplice | Brutus – his brother (ridgeback/kelpie) |
| Favourite past time | Swimming and going out in the car |
Rocky came to us aged 5 months old as a rescue dog from S.A.F.E. At around a year old he was diagnosed with severe hip dysplasia so he cannot play ball games or go off the leash unless it is for swimming.
He is an easy dog to have around and loves going in the car and going on holidays. Rocky is a very sensitive little guy and even knows when there is going to be a thunderstorm about 30 minutes before it happens. He is also able to predict if my asthma is getting bad and will sit outside the bedroom door crying to wake me up when I need my inhaler and he is always right about it.
Rocky is my best friend, he just knows me probably better than I do myself. He is a significant part of our lives and I love this little kelpie dog.
Samantha Rose
read more
All
Donations

0
Activity

0


There is nothing to show from any feeds at the moment.

There are no current donations or activities for this user.
The fitness feed has been disabled by the page owner.

Cancer Support WA
For over 30 years, Cancer Support WA has helped and supported many thousands of Western Australians affected by cancer to achieve wellness, healing and improve their outcomes from cancer.

The money Cancer Support WA raises through fundraising enables us to provide vital free services and programs including:




24 hour cancer support phone line


Counselling for individuals and families


Information packs for people newly diagnosed with cancer


Mentoring and grief groups


Cancer care packs


Home and hospital visits from counselling staff


Cancer wellness courses and seminars


Research, library and wellness magazine


Through your generous donation, Cancer Support WA is able to offer these services at no cost to West Australian families experiencing financial hardship due to cancer.

For more information, please visit our website.
read more
Created by
Samantha Rose
for Cancer Support WA

AUD $175 of AUD$1,200 target
0 people in days
Please make sure you are LOGGED IN. You can only join a Team Leader page if you are logged in and have an Individual page created. If you do, it will be displayed here once you've logged in. If you don't, please return to the 'home page' and follow instructions on how to create your Individual page.